Here it is! The full list of workshops that will be available for AVC has arrived. There are several workshops running concurrently per hour, so scroll on to find a workshop that piques your interest. While you're at it, sign up for a SparkFun building tour. Click on a workshop to register - all events take place Saturday, June 20. See you soon!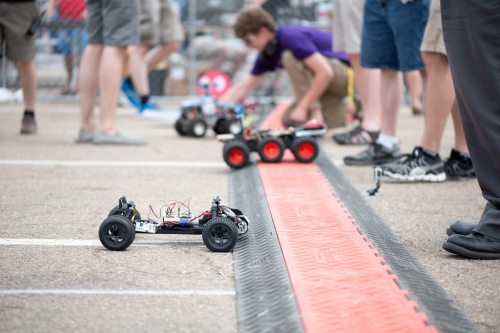 No matter what your current level of understanding is regarding 3D printing, everyone has to start somewhere! This workshop will focus on the fundamentals of the technology and terminology of 3D printing to provide a better understanding of this exciting tech and how it works. The workshop will cover the following topics:
Common terminology in 3D printing
Software basics in 3D printing
Hardware basics in 3D printing
Instructor Bio: Josh Bryant is the Sales Manager at Aleph Objects, Inc., located in Loveland, Colorado. Josh Bryant has been working with 3D printing for over a year and travels across the country to talk about 3D printing and its many uses. Aleph Objects, Inc. manufactures the LulzBot line of 3D Printers, and partners with the Open Source Hardware Association to offer the first hardware product - and still the only 3D printer - certified by the Free Software Foundation to respect your freedom.
In this workshop you will be integrating paper circuits (copper tape and LED stickers) into simple origami shapes to create a light-up flower. Skills include some origami folding, some placing of parts, and a very small amount of soldering.
Instructor Bio: Sarah Al-Mutlaq has worked at SparkFun for about a year. She received her degree in Environmental Engineering with a minor in Electrical Engineering from CU Boulder. Her title here is Creative Technologist, and she works to come up with helpful projects, tutorials, code and content to showcase SparkFun products in a fun and creative way.
Join us for a workshop with Hackster and learn how to:
Rapidly prototype and build your devices running Windows 10 IoT Core
Leverage the power of open frameworks like Connect-the-Dots to help connect your devices to Microsoft Azure
Connect with other makers to share code and make contributions through our community on Hackster
Instructor Bio: Jerry Nixon is a Microsoft evangelist specializing in IoT, cloud computing and product design.
The field of robotics may seem daunting, but you don't need a degree in mechatronics to start tinkering with robots. While large and complicated bots might be expensive, you can start building basic bots for under $100. Shawn will walk you through basic concepts in electronics, programming and mechanics that should give you a head start on creating your drink fetcher, battle bot or entry for AVC 2016! Come and learn how to get started, and get good recommendations on kits and a list of resources to whet your appetite for more robots!
Instructor Bio: Shawn is an Electrical Engineer at SparkFun, crafting the next generation of open source tools. He hides away in the bowels of the Marketing and Communications department scheming up new projects and demos to show the world. Never fear, as he has released several products like the CC3000 Shield, APDS-9960 Gesture Sensor, and the mbed Starter Kit. He can also be found at various events helping kids learn to solder, making YouTube videos (such as Getting Started with the Raspberry Pi), and swing dancing whenever he finds time.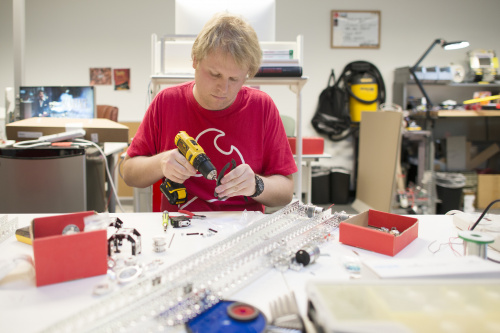 Join us for a workshop with QuickLeft at AVC 2015. Details to follow. Register at your own risk. Not recommended for those with a bee sting allergy. Please be sure to bring an Epi-Pen if a bee sting allergy is unknown.
Instructor Bio: Coming soon.
Just in time for Father's Day weekend! Learn how to make your own light-up greeting cards by using copper tape, a battery and LEDs. We'll start by learning some simple paper circuitry and a basic understanding of how circuits work. No soldering is required. We'll lay out the circuits together, and then you'll be able to customize your design and take your card home with you!
Instructor Bio: Angela is the e-textile and craft specialist in SparkFun's Department of Education. She teaches workshops and develops curriculum and tutorials around the LilyPad wearables line, paper circuit materials and products, and other craft technologies.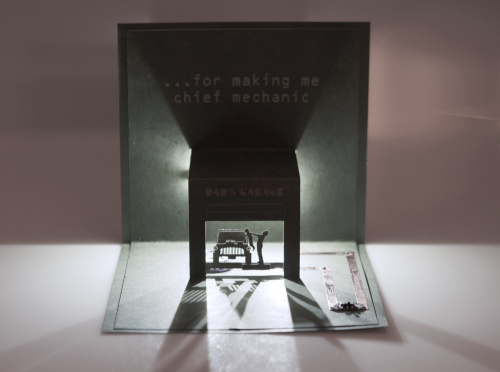 Werkstatt Workshop provides a way for synth experts and novices alike to explore the Moog Werkstatt subtractive synthesizer. Through hands-on instrument modifications, participants will learn the fundamentals of subtractive analog synthesis and the control voltage paradigm. Analog synthesizers have long had their own maker culture born of curious engineers, physicists and hobbyists, who have created and crafted their sounds through electronic experimentation. It is our goal to share our love for learning, music, and electronics by encouraging everyone to create the world they want to hear, one mod at a time.
Instructor Bio: As a project engineer at Moog Music, Chris Howe helps create new and exciting musical products. Chris also hosts workshops and hackathons around the world using SparkFun sensors to hack Moog synthesizers, encouraging makers of all ages to craft their own sounds and musical interfaces.
Ever wondered how the SparkFun folks put together the videos you've come to know and love? Look no further! SparkFun's Senior Videographer Gregg Barclay will be teaching a workshop on video production from concept to conclusion. He'll take you through the ins and outs of video production, as well as offer tips for people new to the realm of video.
Instructor Bio: Gregg Barclay manages a small video production team for SparkFun. The group handles scripting, pre-production, shooting, editing and posting to YouTube. When he joined SparkFun five years ago, the company had very little video presence. Today, it has 50,000 YouTube subscribers and almost 10 million views. The team produces two to five videos a week focusing on product demonstrations, tutorials, customer features and company culture. While the company has grown, SparkFun's video team still shoots and edits content with minimal equipment and with very quick turnaround times.
Join Ableton Certified Trainer Serafin Sanchez and learn how to turn objects such as fruits, vegetables, pencil graphite and play-dough into musical control surfaces. Objects that conduct small amounts of electricity can be used with the MaKey MaKey and Ableton Live to create fun and entertaining performances as non-traditional midi controllers.
Instructor Bio: Serafin Sanchez is an Ableton Certified Trainer based in Denver, Colorado. He received his Masters Degree in Jazz Performance and Pedagogy from the University of Colorado at Boulder. Serafin has performed with artists such as Ziggy Marley, One Republic, Big Gigantic, Devotchka, The Glenn Miller Orchestra, Dumpstaphunk and the USAF Falconaires. He is a partner artist with Youth On Record, a Denver-based nonprofit that provides music production classes in Denver Public Schools, and member of the audio production faculty at The Art Institute of Colorado.
In this presentation, Joel Bartlett will cover the basics of what aquaponics is and what you need to know to get started. He will also cover the various methods he has used to monitor his own systems using SparkFun devices.
Instructor Bio: Joel Bartlett has been part of the SparkFun crew for 8 ½ years, filling roles from production tech to engineer. He is also a founding and Board member of Solid State Depot, the Boulder Hackerspace. After two years of practicing aquaponics in his home, Joel launched Openponics.com, a provider of open source automation and monitoring technology for aquaponic and hydroponic systems and aquariums. He also runs the Boulder Aquaponic Enthusiasts Meetup, sharing his love of aquaponics with the community.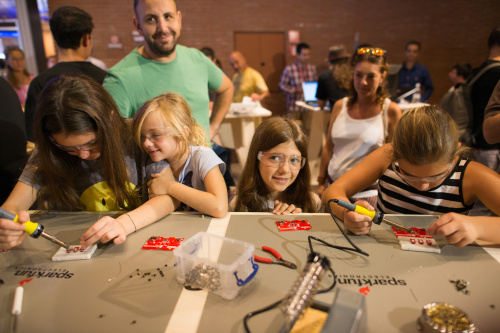 Badger Hack Soldering Workshop
Come join the 2015 Badger Hack soldering workshop! You can learn to solder and get an introduction to Arduino programming in our amazing new classroom - and best of all, it's free with entrance and you get to take your Badger Hack home with you to continue learning! Class sizes are limited so please sign up ahead of time to reserve a space. Kids under 12 please have a parent or guardian with you. Don't miss out!
Instructor Bios: Matt Johnson is the SparkFun Kitting Manager and long time SparkFun EDU collaborator. He's in charge of getting all of the latest and greatest SFE kits out into the world, and occasionally spends his time helping teach classes wherever in the world the company sends him!
Adam Silva is SparkFun's Board Assembly Manager. This is a huge job - he sees boards from start to finish in our production process to ensure the best products for all our customers!
Building Tours
Join us for a guided tour of the new headquarters led by SparkFun staff. Close-toed shoes are recommended.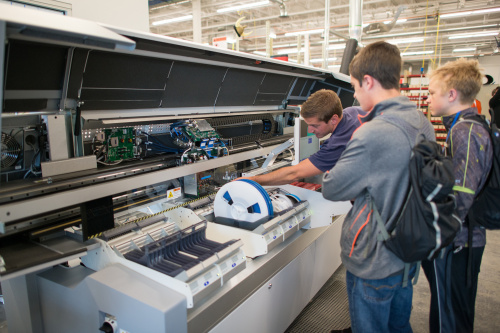 See you in a week and a half!