We are excited to introduce new versions of our high-power micro metal gearmotors with long-life carbon brushes in place of the standard precious metal brushes: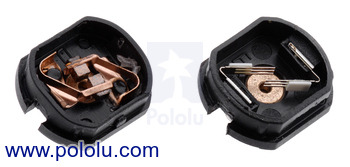 Micro metal gearmotor HPCB long-life carbon brushes (left) next to micro metal gearmotor HP precious metal brushes (right).
So far, we only offer these on motors with HP windings, so the brushes being a lot more robust can just move the failure point if you try to push the motors too hard. However, if you use them at around 6 V and keep the continuous load under around 20% of the stall torque, the carbon brushes allow the HPCB motors to last several times longer than HP versions with precious metal brushes.
With the addition of this new HPCB motor variant in ten different gear ratios (10:1 through 1000:1), our selection of popular micro metal gearmotors now spans more than fifty options, giving you control over the motor winding, gearbox, and shaft arrangement:
Note: Stalling gearmotors can greatly decrease their lifetimes, occasionally resulting in immediate damage to the gearbox. This is especially true for the higher gear ratios, such as the 298:1 and 1000:1 versions, which can generate enough torque to damage themselves. The stall torque values given for the two 1000:1 motors are theoretical, and we strongly recommend you avoid stalling them. Prolonged stalls (on the order of seconds) can result in thermal damage to the motor windings and brushes, especially for the versions that use high-power (HP) motors.