We found this video titled "Build a better bike computer" at IEEE Spectrum. Edited to add: the video, while excellent in all other ways, stubbornly resists embedding in this post, so if you want more than the enticing image below – and we're sure you do – you'll have to put yourself through an extra click to view it on IEEE Spectrum's site.
Gordon, Pi Towers' resident pro bike racer and mountain bike nutcase (ask him to show you his X-rays some time) demurs: he says (I quote): "That's big and stupid".
Gordon also shaves his legs, and says that he wants to fill his bike frame with helium; his cycling needs are the needs of the few.
The rest of us rather liked this Kindle bike hack.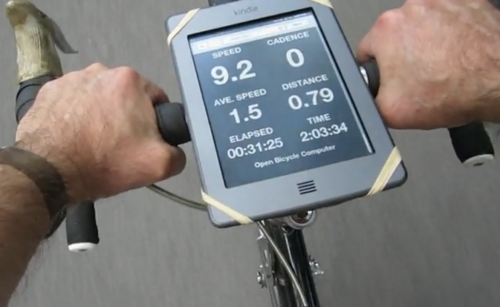 This build uses the Kindle as a display – but, rather than sending information straight to the display, publishes speed, distance, and navigation data to a webpage, which the Kindle's experimental browser then reads on the hoof  fly wheel. Thanks are due to David Schneider, the mind behind; David, please ignore Gordon. He's a curmudgeon.
The post Bike computer for the myopic appeared first on Raspberry Pi.