Before we get into the new products and the videos, I'd like to address the title of this post. Every week, a few of us get together and decide on the title. Some are better than others, but puns are almost always involved. This week's punny title comes courtesy of Adam in Marketing. I mention this because he is very proud of the rare double-pun that is presented before you. Enjoy it, and congratulate Adam on his fine punning abilities. Let's talk products.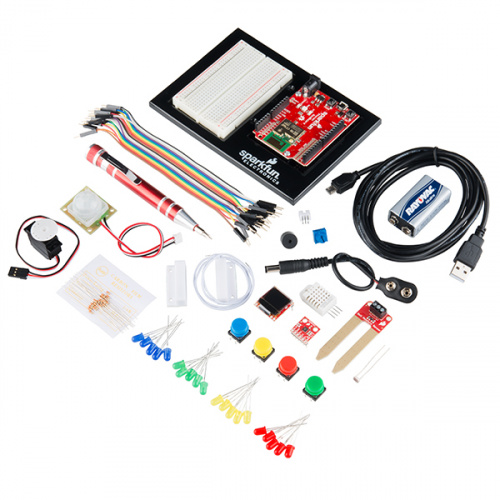 The Photo SIK is here! It's been available for pre-order for a little while now, but today it starts shipping. The SparkFun Inventor's Kit for Photon is a great way to get started in the fresh IoT world and WiFi development. The SparkFun Inventor's Kit for Photon provides you not only with the Photon RedBoard but everything you need to hook up and experiment with multiple electronic circuits! With the Photon SIK you will be able to complete circuits that will teach you how to read sensors, drive motors, and more.
Nick decided to put together a project using some Photon stuff, check it out:
Classic Nick.
The FLiR isn't technically a new product, but it did get a nice price drop this week, so it's worth talking about. It's now $260 for the module and the breakout. With this kit you will be able to be able to bring FLiR's thermal imaging reliability and power to your Arduino, Raspberry Pi, or any ARM based development tool all in an easy to access breadboard friendly package. All you need to do to get this kit set up, simply attach the Lepton® imager module into the provided breakout, connect the headers, and you will be seeing in full darkness in no time! Want to see how it works? Check out this demo video:
This concludes the Friday New Product Post. See you next week!