Last week we devoted much of our attention and content to the Intel Edison, in honor of both the release of our SparkFun Inventor's Kit for Intel Edison, and Thomas Edison's birthday. We got our fair share of (not unexpected) anti-Edison/pro-Tesla sentiments – although we do consider ourselves to be particularly enthusiastic Tesla fans – and so our King of Graphic Design Pete whipped up this incredible illustrated nod to history's greatest nemeses. Behold: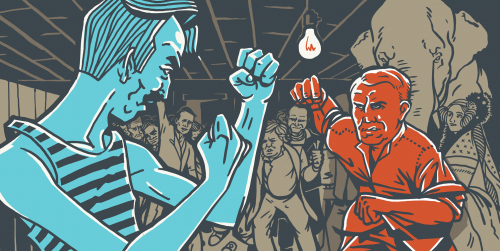 Full disclosure: This glorious image was originally intended to be fully realized as a giant mural inside SparkFun HQ, but Nick Poole stole that wall for a project.
Once you've managed to tear yourself away from identifying your favorite characters in Pete's detailed historical masterpiece, it's time to announce the winners of last week's Edison SIK Giveaway! We asked you to tell us what your favorite SparkFun Block for the Edison is and why, and we have chosen our two champions.


Congrats Runningman and Darrell G – a shiny new Edison SIK is headed your way. Thanks everyone who participated in our Edison Week festivities, and now on with our regularly scheduled programming!