In honor of their fourth birthday, Raspberry Pi is celebrating by releasing something special. That's right, the Raspberry Pi 3 is here! Let's take a look at the 64-bit goodness baked into this new single board computer.
The form factor and connectors for the Pi 3 are exactly the same as the Pi 2. That being said, it seems that the creators decided to perform a few upgrades. First off, we get a new processor; no longer are we stuck with 32 bits. The new BCM2837 has a quad-core, 64-bit ARMv8 running at 1.2GHz. Additionally, the Raspberry Pi 3 has on-board WiFi and BLE (this is very handy for keeping those USB ports open). Finally, these new features will likely require more power, so we get a new switched power source that supports up to 2.5 amps. Best of all, the Raspberry Pi 3 is officially available for pre-order!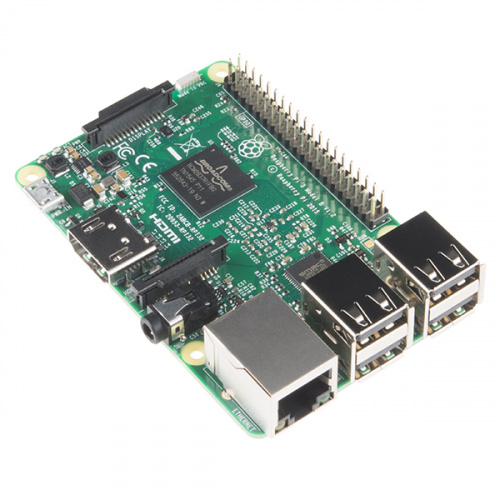 You want all that in table form to make it easier to read? Well then, you got it:
| | Rasbperry Pi 2 Model B | Raspberry Pi 3 Model B |
| --- | --- | --- |
| SoC | Broadcom BCM2836 | Broadcom BCM2837 |
| CPU | 32-bit 900 MHz quad-core ARMv7 | 64-bit 1.2 GHz quad-core ARMv8 |
| RAM | 1 GB | 1 GB |
| USB 2.0 Ports | 4 | 4 |
Looking to get started with the Rasbperry Pi? We've got you covered with videos and tutorials:
Setting up Raspbian (and DOOM!)
How to load a Raspberry Pi up with Raspbian -- the most popular Pi Linux distribution. Then download, compile, install and run the classic: Doom.
Raspberry gPIo
How to use either Python or C++ to drive the I/O lines on a Raspberry Pi.
The new Raspberry Pi 3 is available for pre-order now, and we anticipate shipping them soon!