Last week, we introduced the SparkFun RedStick, a special new edition of the BadgerHack board we designed to teach people the basics of programming and soldering at our 2015 events. After its debut, we got a TON of feedback from customers asking us to sell the Badgers on our site for those who couldn't make it to our booths, and after some finessing and revising, behold: The RedStick. The RedStick combines some of our favorite features like the Uno's Optiboot bootloader, the FTDI, a compact form factor, and, like the Badgers, the ability to plug directly into a computer's USB port.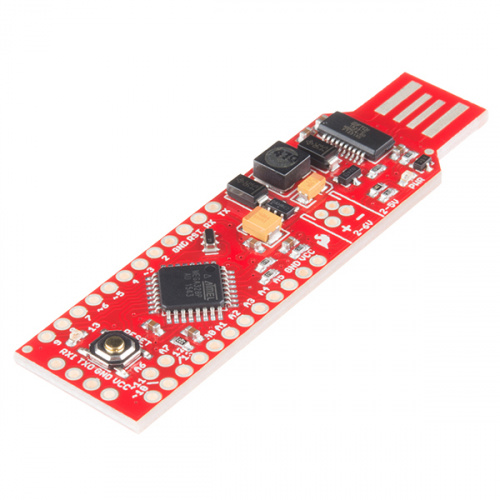 We've also been hard at work on some special add-on kits for the RedStick to help you add functionality and build simple projects with your board. Best of all, if you want to get your hands on a free Badger board and try out some of the add-on kits, come visit us in Austin, TX, at SXSW Create from March 11-13. We'll be set up in the Palmer Events Center, and we'll be running an interactive soldering booth with the Badgers so you can build your own! The three different add-on kits will be available for sale, as well as the new RedStick. In the meantime, if you want to see the RedStick and add-on kits in action, check out our video below, where each of our creative technologists got the chance to show off the projects they made with their add-on kits.
If you can't make it to SXSW but want to try one of the add-on kits for your new RedStick, you can find each tech's kit wishlist below. We hope to meet you at SXSW and see what projects you come up with! Happy hacking!