Welcome to a very full Friday Product Post. We have a lot of things to make your day brighter. First, the Arduino Day Sale is live right now. To celebrate the spirit of Arduino at SparkFun, you can get some steep discounts on Arduino items, and take 10 percent off all SparkFun Originals, all weekend!
Also be sure to check out our new kits, which will make some new Arduino boards and the Thing Dev Board even easier to learn for educators and anyone with an interest in IoT. Let's get to it!
---
Arduino Day Sale Rules
All sales prices will run from 12:01 a.m. MDT on Friday, April 1st, to midnight MDT on Sunday, April 3rd. Sale prices are good only while supplies last, so get in early. No backorders on sale items are allowed, and distributor and educator accounts will not be eligible for Arduino Day sale prices. Some items will have maximum quantities available per order.
---
Maximum 7 per order:
Maximum 5 per order:
---
It wouldn't be April Fool's Day at SparkFun without some office prankery, and despite being distracted by Arduino Day festivities, this year is no different. Our creative techs got to work on a trifecta of creative pranks, and all of them are, naturally, Arduino-based. Watch the greatly amusing unboxing of the pranks, and learn how to make your own!
Finally, on to the new products. We have two new SIKs, an IoT Starter Kit developed with Microsoft, and a new Lab Pack for anyone in the teaching profession. Today is a good day!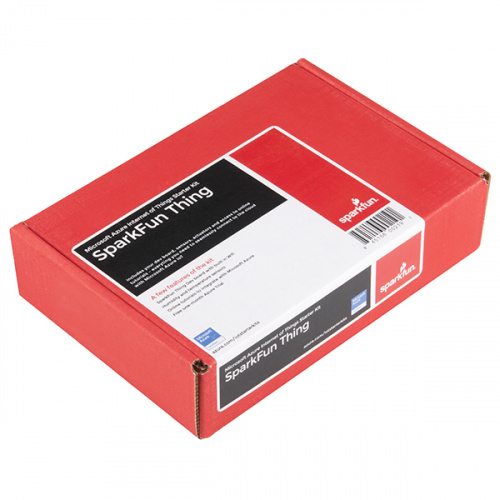 Microsoft and SparkFun have teamed up to bring you some IoT (Internet of Things) fun. The Microsoft Azure IoT Starter Kit for the SparkFun Thing Development Board has been designed to help you seamlessly connect your device to the Cloud with Microsoft Azure IoT. This kit includes an 'Azure certified for IoT' SparkFun Thing Dev Board, and a breadboard and wires to help you set up your circuits. There is also a variety of sensors, such as a photoresistor to sense light, as well as a humidity/temperature sensor to read the ambient temperature and humidity in a room (or outdoors, with some weatherproofing). Once your board is connected to Microsoft Azure, you can start visualizing and analyzing your data.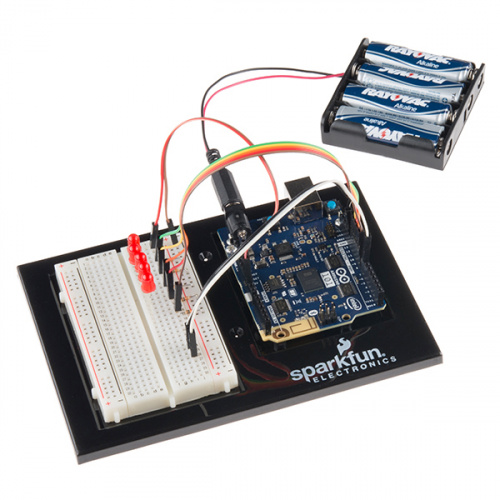 Now available for pre-order, the SparkFun Inventor's Kit for Arduino 101 is a great way to get started with programming and hardware interaction with embedded electronics, using the Intel Curie-based Arduino 101. This SIK includes everything you need to complete 20 circuits that will teach you how to control and read the on-board and external sensors, create Android applications to control your Arduino 101, detect and analyze different sounds, and much more. Don't worry, you won't need any previous programming or electronics experience to use this kit. The philosophy behind this kit is to prove that anyone can (and should) play around with cutting-edge electronics. After using this SIK, you'll have the know-how to start creating your own projects and experiments, from building robots and game controllers, to IoT and data logging, the sky's your oyster.
The Arduino 101 SIK is only available for customers in the USA.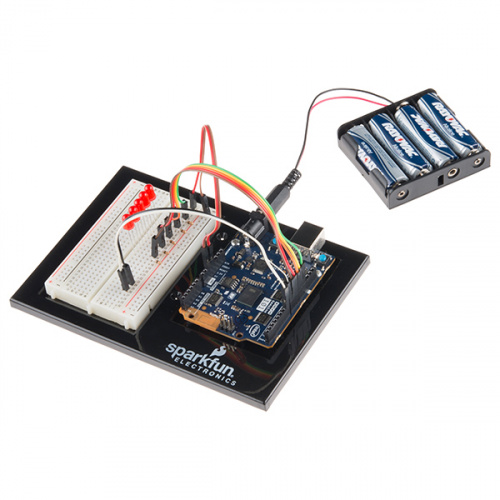 Similar to the Arduino 101 SIK, and also available for pre-order, the SparkFun Inventor's Kit for Genuino 101 provides those of you outside of the United States with the same 101 learning tools as the Arduino 101 kit. With the Genuino 101 SIK, you receive everything the Arduino 101 kit includes – the only difference is a development board with a different name.
The Genuino 101 SIK is only available for customers in the countries detailed on this list.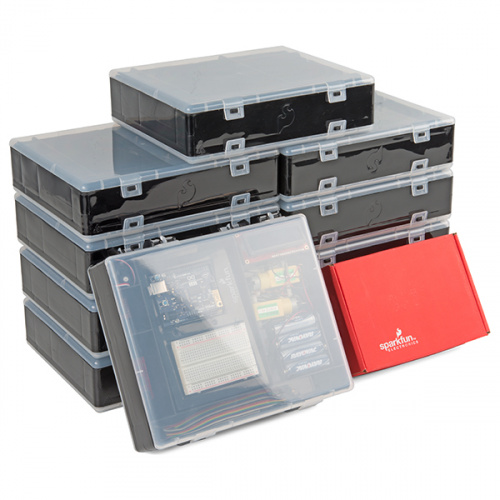 Last up today is the Arduino 101 Labpack. This lab pack includes 10 complete Inventor's Kits for Arduino 101 and two 101 refill packs. The kit has everything you need including Arduino 101s, base plates, breadboards and all the parts needed for project experiments.
Like the Arduino 101 SIK, this Lab Pack is only available for customers in the USA.
That's all the kits we have for you fine people today. We hope you have a fantastic official Arduino Day tomorrow, and can't wait to see you back here next week for even more new products. See you then!