Hi, SparkFun people!
I'm Pavel, creator of Blynk. My background is more in user experience and visual design, so this post is slightly different from what you usually see here. Since I'm a new guy here, let me tell you a bit about myself.
I've been designing web, mobile, and car interfaces for the past 10 years. I am obsessed with how everyday routines can be optimized, and how familiar things around us can be made better.
About three years ago, I came across Arduino and was amazed by how easy it was to convert some of my crazy ideas into prototypes with buttons, knobs, LEDs and so on. I never thought of myself as an engineer, but it seems that genes have a mind of their own. (My grandmother designed electric circuits and dashboard interfaces for USSR secret military projects, and my grandfather was a scientist, seriously tinkering with lasers for war airships during the Cold War.) Very quickly, I realized that things can talk to one another through the internet, opening so many possibilities.
The Internet of Things is definitely happening, but it is still young, and many aspects of it have yet to be explored. We makers are definitely on the front edge, shaping the industry of tomorrow and building the connected products of the future. The most awesome thing is that, with all the readily available information and components - and an amazing maker community - you can build almost anything at home. However, when technology is "solved," another important aspect comes into play: user experience.
IoT reminds me of the early days of the internet, which was built by a group of developers…and used by other developers. It was focused primarily on technology; no one thought about how people will use it. Technology comes first, and as it evolves and more people adopt it, the focus shifts toward design and UX while technology becomes invisible.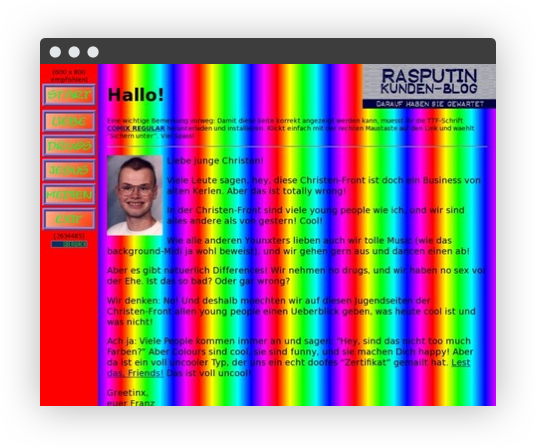 The internet of the '90s, when design was, shall we say, neglected.
Next time you are making something cool (using the SparkFun Blynk Board, of course) try to think about how someone else, like perhaps your parents or non-tech-savvy friends, would use it. My advice is mostly software-related, but creative solutions might come from the engineering side.
Here are five basic tips on what to keep in mind when designing connected stuff:
1. Functionality can be distributed across devices and interactions.
You can set a smart thermostat with a hand, then someone can use a smartphone app to adjust it, and then a rule can trigger it to switch to a night mode.
2. Cloud services can be unavailable.
If the server is performing most of the functions, when there is no internet connection the device can obviously become inaccessible. Now imagine an internet door lock – if your lock is connected to the cloud and it goes offline, you are locked out or in. You get the idea.
3. Requests may take time.
It's OK for an Instagram feed to show a spinning wheel, but latency can become a very frustrating experience when interacting with real objects.
4. Not everything is actually in sync.
When a sensor checks the temperature once in 15 minutes, and then the device goes to sleep, it doesn't represent the current state when you are checking it on a mobile app. It's a different experience from physical objects.
5. Consider interoperability.
It's more a question of standards, but since there is no single protocol yet (another similarity with pre HTTP-era internet), you should consider how your product will talk to other things and services.
There is, of course, much more to consider, and if you are interested in the subject I would recommend looking at:
I'm convinced that for the Internet of Things' evolution, user experience will become the most important factor. With all the forecasts for billions of devices online, people will need to interact with them. They will need to operate and configure them, and create rules for how they will talk to one another, etc.
I do hope your ideas will turn into some fantastic things used by millions of people around world. Maybe you will design a new, smarter thermostat or (please no!) a better SmartPipe.