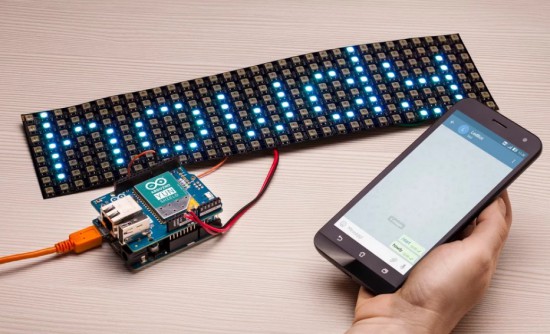 Great news for Makers working on IoT projects! The Arduino and Genuino Yún Shield — now available on our online store for $49.90/€43.90 — is a device that enables you to easily bring Yún features to Arduino and Genuino boards supporting shields.
It's the perfect shield to start connecting your projects to the Internet thanks to the Yún Web Panel and the dedicated "YunFirstConfig" sketch. This new feature, implemented in the new Arduino Software (IDE) 1.6.9, allows you to manage your shield preferences and upload your sketch on the attached Arduino or Genuino. Like the previous Yún board, the Yún Shield uses the Bridge library and extends your board capabilities using the Linux processor.
The new Yún family runs the latest version of OpenWRT (15.05 Chaos Calmer), which offers an additional layer of security and a large amount of bug fixes over previous Yún distribution. The precompiled package list is huge (we have more than 4,000 packages ready to be installed), and if you still can't find what you are looking for, you can use the community provided repositories since the new release is fully modular (not a fork).
Want to learn more? Explore all there is to know about the Yún Shield, including its documentation via the links below:
Go hands-on with these dedicated tutorials:
Got any question? Join the forum!