For millions of people, gaming can be a way to wind down, a way to interact with family and friends, even a way of life. But for almost a quarter of all gamers, operating the controller can be an impediment to enjoying your favorite game. According to research done by Microsoft, 14 percent of gamers have a temporary mobility limitation, while eight percent have some type of permanent mobility limitation or disability that makes using the standard Xbox controller difficult, if not impossible. But this doesn't change the fact that playing video games is dope. So Microsoft set out to do something about it.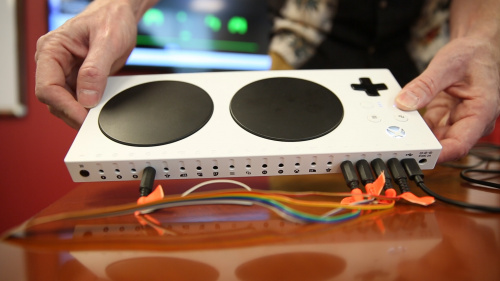 The Xbox Adaptive Controller, with its impressive array of input ports
Microsoft spent three years partnering with occupational therapy groups and nonprofits to come up with a controller that allows easier access and a customizable interface for gamers of all abilities – and what they've come up with is pretty impressive.
The large, 29.2 cm x 13 cm controller has on its face two large buttons (A and B) and a D-pad, along with the Xbox button, view button, menu button, profile button and a battery indicator light. But the really impressive part sits along the back edge: 19 ports that represent every button on a standard Xbox controller. The user can plug in any number of buttons, switches or pedals that have a simple 3.5 mm jack, allowing customized control of gaming inputs to make it as comfortable and enjoyable an experience as possible. Four of the inputs - eight, nine, 12 and 13 - can accept analog as well as digital signals. There are also a pair of USB 2.0 ports, one on each side, for HID joysticks or gamepads. Finally, a 3.5 mm headphone jack allows the gamer to keep peace among family, roommates or neighbors. And to charge the controller, there's a USB-C power port and a DC power port, to keep your adaptive controller powered for up to twenty five hours.
Aside from its obvious use with the Xbox system, the Adaptive Controller can also be used with Windows 10, 7 and 8.1, although there will be limited functionality with the latter two. Additionally, it is completely re-mappable using the Xbox Accessories App, and Microsoft offers a decent variety of accessories to plug into the Adaptive Controller. But what I feel is one of its best features is the fact that it is not proprietary - that is, it can use any third party buttons, joysticks, switches or pedals, or even custom made ones. So that's what I'm going to try today.
I've wired up some simple switches, and I will be plugging them into the Adaptive Controller and attempting to do some simple gaming on my PC. I don't have an Xbox for testing, as I have always been a PS guy (kindly send all gamer-related hate mail to RobDontCare@sparkfun.com).
For games downloaded from the Microsoft Store, your controller should be automatically recognized, at least on a Windows 10 machine. You can still use your controller for other games, but you'll need a third-party mapping application. I am using (Antimicro)[https://sourceforge.net/projects/antimicro.mirror/], but there are a number of other mapping apps available, such as Keysticks, JoyToKey and GlovePIE, to name a few. If you're feeling really ambitious, you could probably even use this to make a fully immersive flight simulator cockpit, with an entire panel of switches spread out before you. Or you could just do something a bit easier, like I did for this demo project.
So this was just a bit of fun at the expense of my dignity, but the capabilities of this piece of hardware go far beyond the laughs we had here. If you or someone you know has a mobility limitation or disability, and want to connect with others or get more information on gaming accessibility, some of the groups that Microsoft worked with include:
https://warfighterengaged.org/ - This all volunteer group "provid[es] enabling solutions and independence to our wounded and severely disabled warfighters."
https://ablegamers.org/ - Nonprofit organization dedicated to helping gamers with disabilities overcome social isolation through more accessible gaming options.
https://www.specialeffect.org.uk/ - A UK-based nonprofit dedicated to "put[ting] fun and inclusion back into the lives of people with physical disabilities by helping them to play video games."
And if you want to learn a bit more about the Adaptive Controller from the source, take a look here: https://news.xbox.com/en-us/2018/05/16/xbox-adaptive-controller/