The University of Colorado Boulder is, quite literally, just down the road from SparkFun HQ. Several SparkFunions are graduates of CU (including our founder, Nathan Seidle), so any time they hold an event promoting their engineering school, it piques our interest! On April 26th, CU held their second annual Engineering Projects Expo and completely took over the Indoor Practice Facility next to Folsom Stadium. We were pretty excited to attend and catch a glimpse at all of the new inventions and technologies created by teams of CU engineering students.
More than 140 teams of students displayed their capstone engineering projects that they spent the past year developing, building, and more than likely losing sleep over. Some of the teams are sponsored by industry partners like Visa, Inc. and NASA Jet Propulsion Laboratory, some by CU Boulder faculty, and others are entrepreneurial ideas developed by students.
Last year, Dean Bobby Braun described the Expo as "a great opportunity for community members, future engineers and hiring managers looking for new talent to see what we're up to at CU Engineering," and each engineering department is represented including architectural, aerospace, electrical, mechanical and more!
As you saw in the video, there were so many teams in attendance this year that we simply didn't have enough time to talk to all of them. Luckily, we did have the time to take an in-depth look at five specific teams, including the winner of the New Venture Challenge, Stride Tech!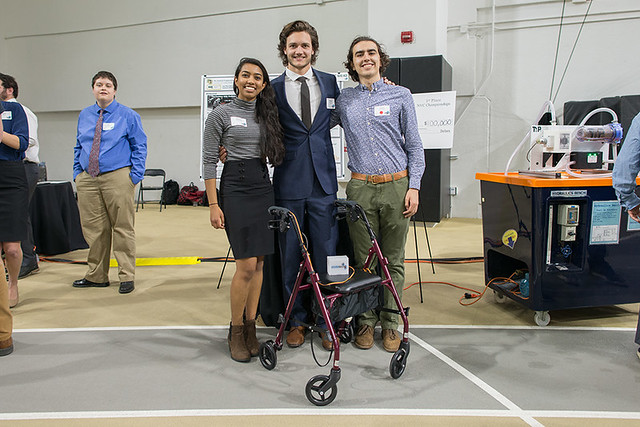 The SmartStep is a universally attachable walker accessory that detects and corrects dangerous walker use habits, and monitors walking to generate actionable insights for a physician. Data and insights from Smart Step are tracked and given to physicians using accompanying software. The software displays the user's walking health on a live dashboard and analyzes abnormal patterns, so that a physician can better treat, diagnose and monitor their patients. Team members include Timothy Visos-Ely, former SparkFun intern Humsini Acharya, Maxwell Watrous, Andrew Plum and Thomas Saunders.
---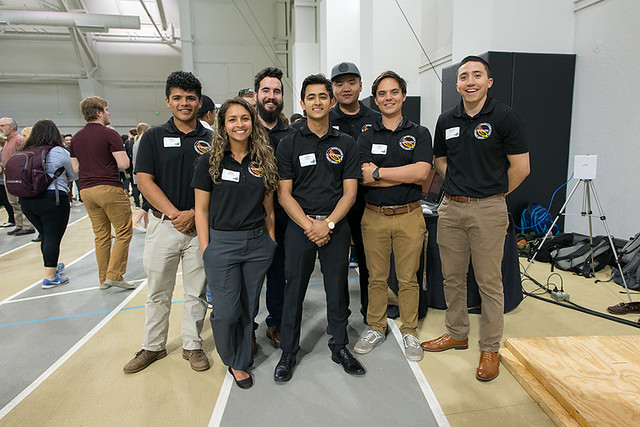 The HEREMES, or Hazard Examination & Reconnaissance Messenger for Extended Surveillance, is a child scout rover (CSR) that will deploy, take images and videos of the surrounding terrain, determine a viable path to a location of interest (LOI), and upon arrival to the LOI, will send the viable path to the mother rover to help in search-and-recovery situations. This project was sponsored by NASA JPL, and team members include Marcos Mejia, Colin Chen, Quinter Nyland, Katelyn Griego, Brindan Adhikari, Chase Pellazar, Ashley Montalvo, Brandon Santori, Alexander Sandoval, Alexis Sotomayor, Junzhe He and Michely Tendari.
---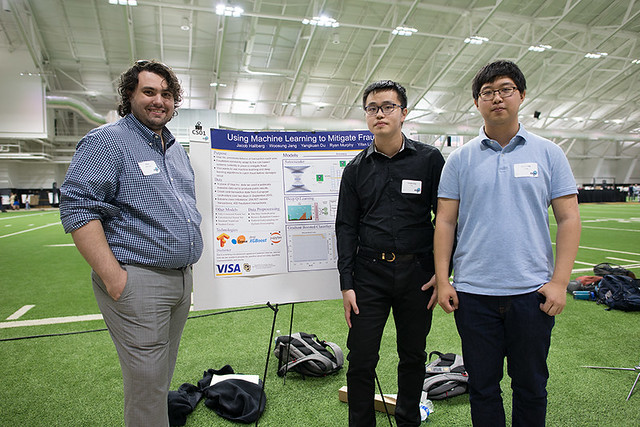 Fraud Detection uses machine and deep learning to catch and mitigate credit card fraud before damages occur. Utilizing TensorFlow, Jupyter and other technologies allowed for great accuracy in their fraud detection algorithms. This project was sponsored by Visa, Inc., and team members include Jacob Hallberg, Ryan Murphy, Woosung Jang, Yangkuang Du and Yifan Li.
---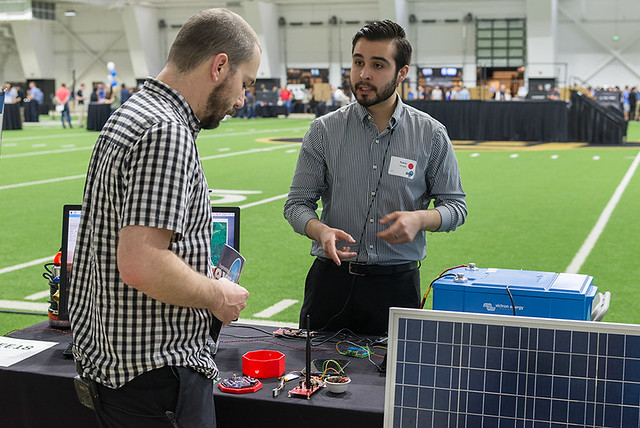 SACS, or Smart Agricultural Control System, was developed to help bring clean water to arid parts of the world to help increase crop growth in areas that have previously been unable to support sustained growth. Team members include Ruben Vargas, Dhruva Kholey, Heinz Boehmer, Gabriel Anhalzer and Bennett Miller.
---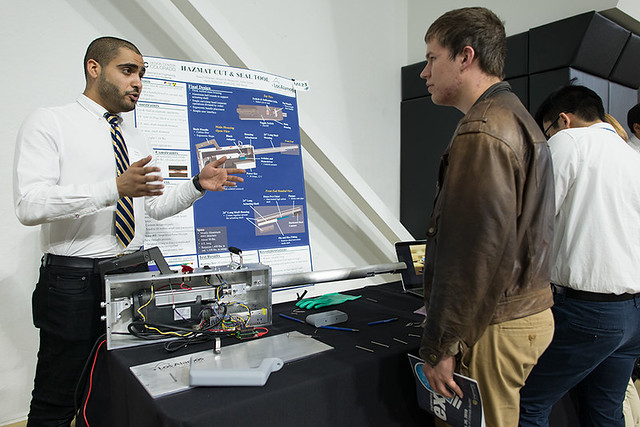 The HAZMAT Cut and Seal Tool is a prototype tool for a technician to cut and seal ⅛-inch diameter stainless steel tubing. The tool fits within a 2-inch diameter constraint, and has a 2-foot standoff distance. With reliability as the top priority, this tool houses a high force linear actuator within an aluminum frame. This project was sponsored by Los Alamos National Laboratory, and team members include Yousef AlWeqayyan, Yousef AlQattan, Alexis Nibbelink, Eric Strom, Mohamad Azman and Ryan Goh.
---
Unfortunately, we just didn't have enough time to interview each team at this year's expo, but there's always next year and we can't wait to go back! Learn more about all the winners here, check out the album below for even more photos of the expo and be sure to check it out next year if you are in the area – you won't be let down!