Welcome! Today we're revisiting yesterday's news: the shipping of our SparkFun JetBot AI Kit Powered by NVIDIA Jetson Nano – but that's not all! Also released this week we have a version of the SparkFun JetBot Kit without a Jetson Nano (in case you already own one), a kit for you to take NVIDIA's free Deep Learning Institute Course, and a set of four new mecanum wheels that are Lego-compatible. Let's dive in and take a closer look!
JetBot, rolling out!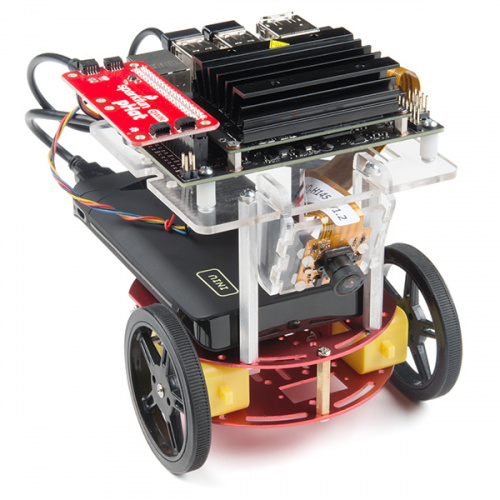 The SparkFun JetBot AI Kit is a robot platform powered by the Jetson Nano Developer Kit by NVIDIA. This SparkFun kit is based on the open-source NVIDIA JetBot! We understand that not everyone has access to multiple 3D printers on each floor and a whole warehouse of electronics, so we wanted to build a kit from ready-to-assemble parts to get you up and running as quickly as possible. The SparkFun JetBot AI Kit is a great launchpad for creating entirely new AI projects for makers, students and enthusiasts who are interested in learning AI and building fun applications. It's straightforward to set up and use, and is compatible with many popular accessories. Several interactive tutorials show you how to harness the power of AI to teach the SparkFun JetBot to follow objects, avoid collisions and more. The Jetson Nano Developer Kit offers useful tools like the Jetson GPIO Python library, and is compatible with common sensors and peripherals, including Python compatibility with the SparkFun Qwiic ecosystem.
If you already own a Jetson Nano Developer Kit, you're in luck! We also carry a JetBot Kit designed to use your own board instead of buying a whole new one.
---
With the release of the Jetson Nano Developer Kit, NVIDIA is empowering developers, researchers, students and hobbyists to explore AI concepts in the most accessible way possible. Reinforcing its commitment to widening accessibility and innovation in the area of deep learning, NVIDIA has created a free, self-paced, online Deep Learning Institute (DLI) course, "Getting Started on AI with Jetson Nano." The goal of the course is to build foundational skills to enable anyone to get creative with the Jetson Developer Kit.
Included in this kit is everything you will need for "Getting Started on AI with Jetson Nano."
---
Mecanum wheels allow your robot to not only travel forward and backward, but also sideways! Nine rollers, set on a 45° rotational axis parallel to the main rotational axis of the wheel, enable a broad a range of movement. Rotating all four wheels in the same direction causes forward or backward movement; rotating the wheels on one side in an opposite direction to those on the other side causes the vehicle to rotate, and rotating the wheels on one diagonal in the opposite direction to those on the other diagonal causes side-to-side movement.
---
That's it for this week! As always, we can't wait to see what you make! Shoot us a tweet @sparkfun, or let us know on Instagram or Facebook. We'd love to see what projects you've made!