We know that learning from home can be a stressful transition for you and the student(s) in your home. Between our Spring Kit Sale and resources from our SparkFun.com and SparkFunEducation.com sites, we're here to help make the transition go as smoothly as it can.
If you're in need of some materials, be sure to shop our Spring Kit Sale - available through April 17th! Designed with beginners in mind, these kits offer a springboard into electronics through circuit building, creating e-textile projects, measuring the weather, practicing soldering, and exploring the Internet of Things (IoT).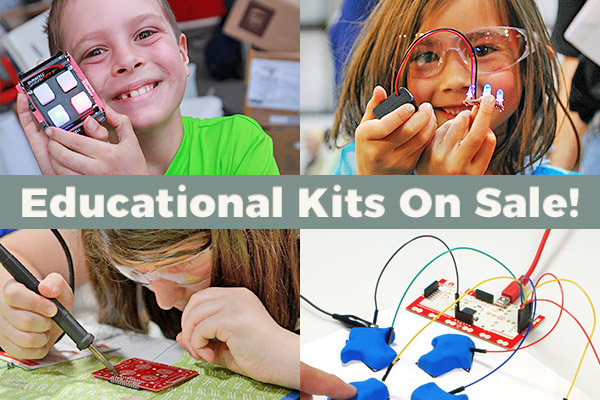 If you're looking for a particular item or ecosystem, check out our Education Materials page for a more robust list of our education-focused items.
We know teaching isn't easy, but we have some handy resources that will hopefully help. With lessons on the basics of electronics to more advanced learning with coding, you will be able to help kids continue to learn from home.
Resources:
Our SparkFunEducation.com site has one-off activities that are classroom-standards aligned.
If you're looking for longer-term curriculums that provide weeks of learning, we have them available for Arduino, micro:bit and Raspberry Pi.
For short lessons on a variety of topics, check out some of our blogs, like our "What is a…" series, our Adventures in Science series or the SparkFun Education blog (check out the student projects, basic circuits, teaching tools, and micro:bit tags!)
We also have more in-depth information on certain topics, like Engineering Essentials and All About LEDs
If you're looking to bridge video games and learning, check out our blog post on how to get kids programming with Minecraft.
To create a fun classroom space, be sure to download our educational poster series! Click on the poster title to download a printable PDF!
Between our current sale and our ever-growing list of resources, hopefully we can help make learning at home a little easier.