Hello everyone and welcome back to another Friday Product Post here at SparkFun Electronics! This week we have a handful of new products that we feel that you are going to really appreciate and it all starts with the new Alchitry Au FPGA Kit. This FPGA kit includes pretty much everything you need to get started with Alchitry and at a reduced price! Following the kit, we also now offer the Teensy 4.0 and 4.1 with headers, so you won't need to solder anything to get up and running! Finally, we round out the day with a new, simple 555 Timer.
Don't forget that you can get a free SparkFun Qwiic Pro Micro BoogieBoard with any purchase of $75 or more using promo code "BOOGIEBOARD20" (some restrictions apply). Supplies are running short so get yours before we run out!
Now onto our new products!
Whatever you need, FPGA is here for you.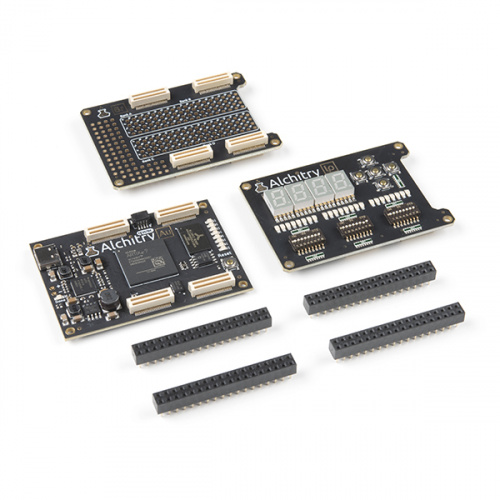 If you have ever wanted to get into FPGAs but never knew where to begin, the Alchitry Au FPGA Kit from SparkFun provides you with the boards you need to get started! Included in this kit is the Alchitry Au, Alchitry Io Element, Alchitry Br Prototype, and a 4-pack of female headers. The only thing you'll need to supply are a USB-C cable to power and program the Au and Qwiic cables to add I2C accessory integration.
---
The Teensy 4.0 with Headers features an ARM Cortex-M7 processor at 600MHz, with a NXP iMXRT1062 chip, the fastest microcontroller available today. Teensy 4.0 is the same size and shape as Teensy 3.2, and retains compatibility with most of the pin functions on Teensy 3.2.
---
The Teensy 4.1 with Headers is the newest iteration of the astoundingly popular development platform that features an ARM Cortex-M7 processor at 600MHz, with a NXP iMXRT1062 chip, four times larger flash memory than the 4.0, and two new locations to optionally add more memory. The Teensy 4.1 is the same size and shape as the Teensy 3.6 (2.4in by 0.7in), and provides greater I/O capability, including an ethernet PHY, SD card socket, and USB host port
---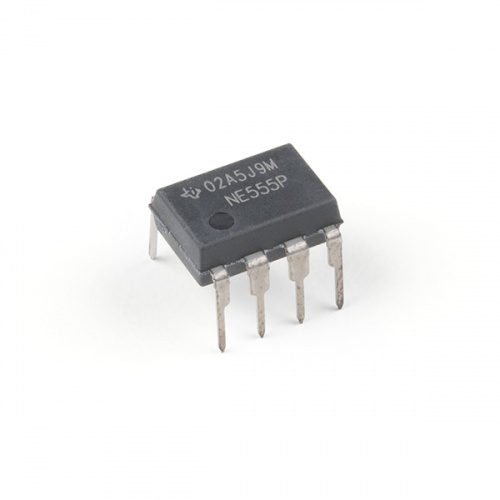 This is a common 555 timer/oscillator from TI. A classic for all of those first year circuits projects where you need to blink an LED, generate tone, and thousands of other great beginning projects.
---
That's it for this week! As always, we can't wait to see what you make! Shoot us a tweet @sparkfun, or let us know on Instagram or Facebook. We'd love to see what projects you've made!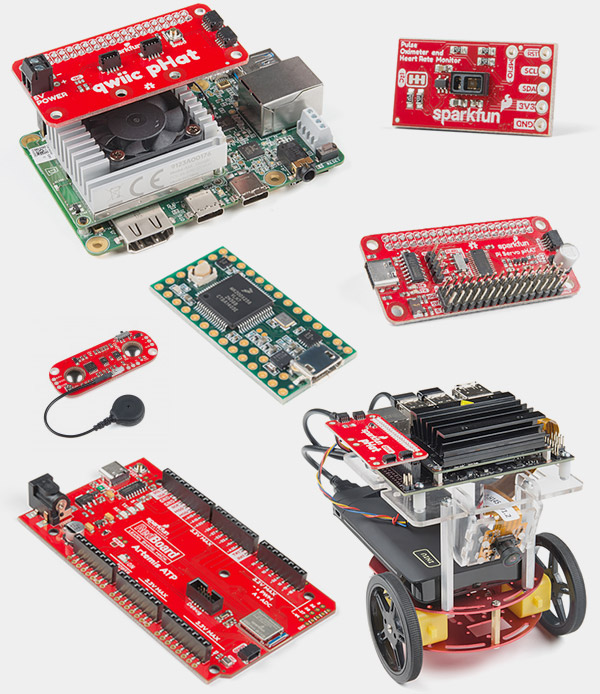 Never miss a new product!