Our Technical Support forum moderators are here to support SparkFun customers, and customers who have purchased SparkFun products from our official distributors. We are here to troubleshoot product issues and test both hardware and software problems against SparkFun's internal and external documentation to resolve issues for our customers. Technical Support moderators have the ability to issue tickets associated with refunds and replacements in addition to performing repairs and conducting tests on returned products.
Once you have created your topic on the SparkFun forums, a moderator will review the topic shortly and will respond to the post in about three business days if it fits our criteria for eligibility. Keep in mind: We like to build robots, but we aren't robots – we have a limited staff of technical assistance professionals so mistakes may happen. Please be kind.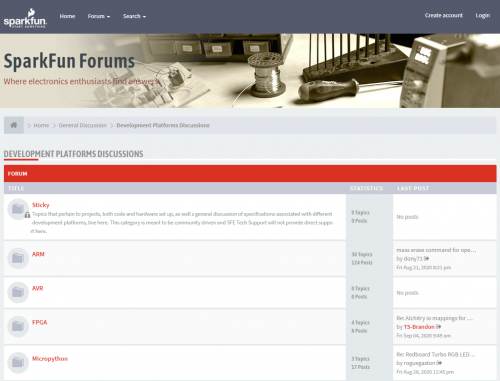 In some instances where a moderator cannot answer your question we may redirect you to other resources not associated with SparkFun to try and point you in the right direction.
Hardware testing on returns takes up to 10 business days after the product(s) have been received into SparkFun's facility. Due to COVID-19, several SparkFun policies have changed as a result and hardware testing may take up to 15 business days at this time.
When working on issues within a specific tutorial, we encourage you to review the "troubleshooting" section for quick pointers on how to overcome some common issues. There is also a quick link to the appropriate forum category to post topics associated with the product, in most cases.
If you are working with a code issue while using code written by a SparkFun employee within a SparkFun product tutorial, please consider submitting a GitHub issue ticket associated with that product, including the problem you are running into. SparkFun does not offer assistance on custom modifications to our existing code, nor does SparkFun offer assistance for code that was not written by a current SparkFun employee. Consider posting in the General Development Platforms discussion category if you would like to see if the community can assist you under these circumstances, or consider posting on other forums such as the Arduino forums if the code is Arduino IDE related.
There are three primary categories that topics fall into on the SparkFun forums:

Topics moderators can assist with (response time - three estimated business days)
Product(s) appear to have a defect in hardware.
Product(s) do not work as advertised per our hook-up guide or other documentation on the SparkFun website product page.
Code written by a SparkFun employee and published in an official SparkFun product tutorial or hook-up guide is throwing compile errors.
Simple questions about a SparkFun product that are re-searchable using information available on the SparkFun website.
Simple questions about the compatibility of several SparkFun products for a project (be sure to post in the projects category).
Topics with issues which may require an electrical engineer to review and reply (esponse time is dependent on issue - some topics may not receive a response)
Topics that state a specific fundamental advertised feature of a product is not working, indicating a design flaw or issue in software.
Topics that ask about features of a chip not mentioned within the hook-up guide of the product.
Topics that discuss discrepancies in electrical characteristics associated with components or PCB design related issues within a SparkFun product.
Topics that require no response from a SparkFun employee
Topics where a customer's question(s) or issues(s) were answered correctly by another forum user within the community.
All topics within any forum category other than "SparkFun products" or "SparkFun Education."
Topics that are not relevant to the forum category (these topics will be moved to the appropriate category in most cases).
Topics that pertain specifically to a third party IDE, SDK, or other environments not owned or developed by SparkFun.
Topics that specifically pertain to code not written by SparkFun.
Keep in mind that there are exceptions, which are handled on a case-by-case basis and may fall into or deviate from the above examples.
Moderators may need some personal information to assist further in some circumstances, such as Return Merchandise Authorization (RMA) processes, and we may ask for this information via private messages. A technical support representative will never ask you to share personal information publicly on the SparkFun forums. Always double check and make sure the individual who is private messaging you is a verified SparkFun moderator or employee. The best way to tell is by the red coloring in the name and the "SFE-TS-Moderator" title underneath.
If you have feedback on anything associated with the forums including functionality, spelling errors, response time from moderators, etc., please private message TS-Feedback and we will look into it as soon as possible.
For more information on how to use phpBB3 and the SparkFun forums, check out the phpBB3 user guide.
Thank you for taking the time to read through this blog. We look forward to assisting you on the SparkFun forums soon!