Hello everyone! You may notice that tomorrow there isn't a new Weekly Deal, but that's because we're kicking off a bunch of sales next Monday! We're going to be spending 23 of November's 30 days with some awesome thing(s) or another on sale, starting with daily deals. Every weekday from Monday, November 2, through Thursday, November 26, we will have something on sale.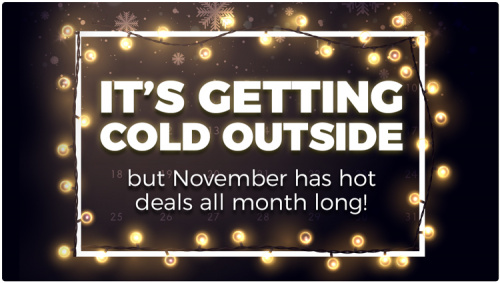 Why, you may ask, do the deals end on Thursday, November 26? We have more surprises planned for Black Friday and Cyber Monday! For your planning purposes, Black Friday will run from Friday, November 27, through Sunday, November 29. After that, we'll be holding a one-day sale for Cyber Monday on Monday, November 30.
Sales are awesome, but they would not be possible without our amazing warehouse team, so a MASSIVE shout out goes to our incredible crew who have been working in the warehouse throughout this pandemic and are making the logistics of these deals possible. These sales are likely to increase our order volume, so please bear with us as we fulfill orders while keeping our team safe. Order ship times may be delayed, as well as the in-transit shipping delays that have become almost normal these days.
So get hyped, get ready for the sales, and maybe go enter all those dates on a calendar?
Rules & Information:
Each daily deal will run from 12 a.m. MT until 11:59 p.m. MT on the same day.
Daily deals will only be released Monday through Friday of each week, from Monday Nov, 2, through Thursday, Nov 26.
No rainchecks or backorders will be allowed.
We will not be allowing the combining of orders during this sale.
Distributor and reseller accounts will not be eligible for sale prices unless specifically noted otherwise.
Please note: We will be working hard to get as many orders out as quickly as possible, but we cannot guarantee same-day shipping during the sale days.