Hello there, everyone! We have had a very busy week here with two major product releases: On Monday, Raspberry Pi released their new Compute Module 4 series and, since we are now an Approved Reseller, we are offering several different options of the board including a way to easily access them. On Wednesday, we announced our brand new SparkFun MicroMod ecosystem that allows you to swap out small Processor Boards on function-specific Carrier Boards. Let's take a closer look!
Watch Avra build a project with our new MicroMod boards!
Pick processors from SparkFun's own Artemis to ESP32 or SAMD51 (and more to come). Mix, match, test and prototype different processors with few to no code changes!
SparkFun MicroMod Artemis Processor: Leveraging the ultra powerful Artemis Module, the SparkFun MicroMod Artemis Processor is the brain board of your dreams. With a Cortex-M4F with BLE 5.0 running up to 96MHz, and with as low power as 6uA per MHz (less than 5mW), the M.2 MicroMod connector allows you to plug in a MicroMod carrier board with any number of peripherals.
SparkFun MicroMod ESP32 Processor: The MicroMod ESP32 Processor Board combines Espressif's ESP32 with our M.2 connector interface to bring a processor board with reliable WiFi and Bluetooth capabilities into our MicroMod ecosystem.
SparkFun MicroMod SAMD51 Processor: With a 32-bit ARM Cortex-M4F MCU, the SparkFun MicroMod SAMD51 Processor Board is one powerful microcontroller packaged on a small board! The provides you with an economical and easy-to-use development platform if you need more power with minimal working space.
---
Rob goes over the MicroMod ecosystem boards in more detail!
Choose a carrier board to access different inputs and outputs based on your specific needs. Each carrier board is easily expandable by utilizing our Qwiic Connect System.
---
Since we are now an Approved Reseller for Raspberry Pi, we are happy to carry versions of the brand new Raspberry Pi Compute Module 4. The Raspberry Pi Compute Module 4 represents a huge change for the Compute Module line, the biggest change being the move from the DDR2 SODIMM connector form factor to a high density connector on the bottom of the board. True to the line, the Compute Module 4 packs all the best features of the Raspberry Pi Model B 4 into a more favorable form-factor for embedded or OEM applications.
---
That's it for this week! As always, we can't wait to see what you make! Shoot us a tweet @sparkfun, or let us know on Instagram or Facebook. We'd love to see what projects you've made!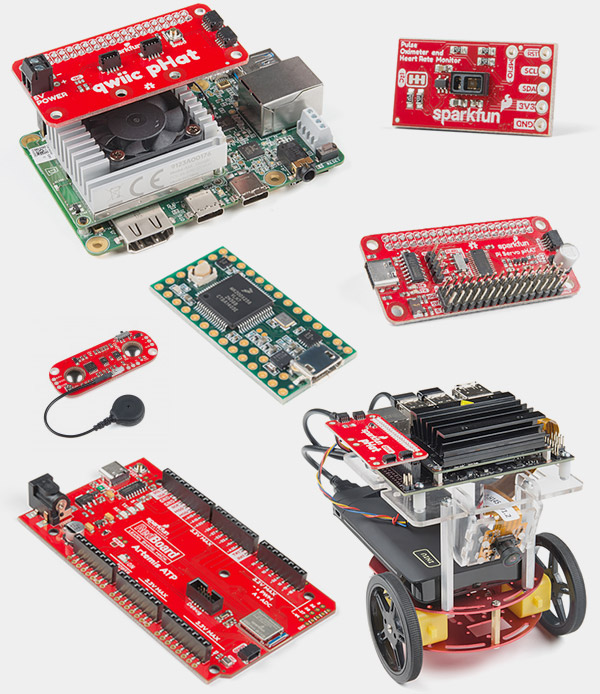 Never miss a new product!