Hello everyone and welcome back to another Friday Product Post, filled with Raspberry Pi-powered products! We lead the week off with new versions of our popular Raspberry Pi 4 kits, but we now offer them without Raspberry Pi 4s. This way, if you already own a Raspberry Pi 4, you have an option to cut some costs and use the Pi you are most familiar with! Speaking of "Powered by Pi," earlier in the week we also co-launched new HNT Hotspot Miners from Nebra, both of which are controlled by a Raspberry Pi Compute Module at their cores. We round out the day with a new Qwiic-enabled version of our Soil Moisture Sensor. Now, let's jump in and take a closer look at each of this week's new products!
Check it out: the SparkFun Raspberry Pi 4 Basic Kit, Hardware Starter Kit and Desktop Kits now all have options without RPi4s. We've received multiple requests to start carrying our in-house Raspberry Pi 4 kits without one, so you will be able to choose which board you want to use and to save a few bucks if you don't want to buy a whole new Pi.
---
Earn HNT cryptocurrency by mining Helium and building coverage for The People's Network using the Nebra Outdoor and Indoor HNT Hotspot Miners. Anyone can join The People's Network, and provide hundreds of square miles of wireless network coverage while mining HNT on the Helium Blockchain just as hotspot miners do.
The Indoor HNT Hotspot Miner is expected to start shipping as soon as March 2021, while the Outdoor HNT Hotspot Miner is due to start shipping in April 2021. Since both are available for pre-order only, each order will be fulfilled in the order they are received. If you are ordering this product alongside live/in-stock products and want to receive these products ASAP, be sure to designate your order for split shipments in checkout.
---
The SparkFun Qwiic Soil Moisture Sensor is a simple breakout for measuring the moisture in soil and similar materials. The soil moisture sensor is pretty straightforward to use. The two large, exposed pads function as probes for the sensor, together acting as a variable resistor. The more water in the soil, the better the conductivity between the pads will be, resulting in a lower resistance and a higher SIG out. This version of the Soil Moisture Sensor includes a Qwiic connector, making it even easier to use this sensor!
---
That's it for this week! As always, we can't wait to see what you make! Shoot us a tweet @sparkfun, or let us know on Instagram or Facebook. We'd love to see what projects you've made! Please be safe out there, be kind to one another, and we'll see you next week with even more new products!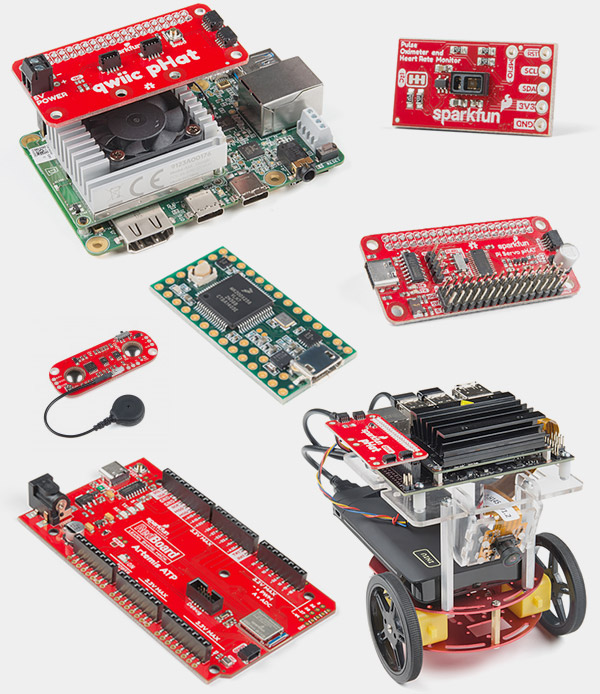 Never miss a new product!