We're excited to participate in this year's GTC21 conference, with two great sessions for attendees to watch! While we can't give away too many details right now, stayed tuned for more info and links to our sessions. We can't wait to share what we've been working on!
---
Haven't heard of GTC21? GTC21 is a great conference held by NVIDIA that focuses on artificial intelligence. This year's online format allows you to explore the latest in AI from the comfort of your desk, couch, backyard, etc. With more than 1,400 sessions free to attend, this conference covers multiple industries and interests for those interested in AI. Topics range from autonomous machines, to high-performance computing, to graphics and game design, to data science and deep learning, to IoT! The week of AI exploration and innovation starts with a keynote from NVIDIA's Founder and CEO, Jensen Huang. See more details below!
Conference details:
April 12-16th
Watch online demos, live and recorded sessions, panels and more!
Register for free over on GTC21's site
While there are more than a thousand(!) sessions to watch for free, NVIDIA is also offering opportunities for paid, hands-on training with their Deep Learning Institute (DLI). Attendees can spend a full day further exploring topics such as AI, accelerated computing or accelerated data science, and earn an NVIDIA DLI certificate! Explore training available on the conference's site.
Keynote details: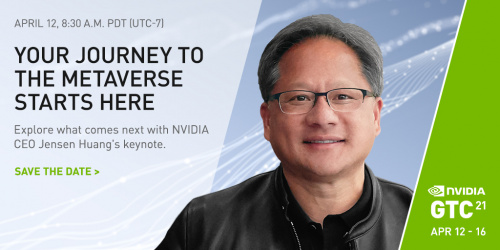 This year's conference kicks off with a keynote from NVIDIA's Founder and CEO, Jensen Huang. Expect exciting announcements and more about NVIDIA's company vision for computing. Keynote begins Monday, April 12th, at 8:30 a.m. PDT/ 9:30 a.m. MDT/ 11:30 a.m. EDT. More information about the keynote is available on GTC21's site.