TL;DR: Computer History nerds, we wrote you a book.
The Computers That Made Britain
The home computer boom of the 1980s brought with it now-iconic machines. Machines that would go on to inspire a generation, such as the ZX Spectrum, BBC Micro, and Commodore 64.
The Computers That Made Britain tells the story of those computers – and what happened behind the scenes during their creation. With dozens of new interviews discover the tales of missed deadlines, technical faults, business interference, and the unheralded geniuses behind all of it. Geniuses who brought to the UK everything from the Dragon 32 and ZX81, through to the Amstrad CPC 464 and the Commodore Amiga.
Get your copy now
You can order your copy of The Computers that Made Britain today online from the Raspberry Pi Press Store. Alternatively, you can buy it in the Raspberry Pi Store in Cambridge, and from other leading online highstreet booksellers, including Waterstones. As always, you can also download the book in PDF format, for free, directly from the Wireframe website.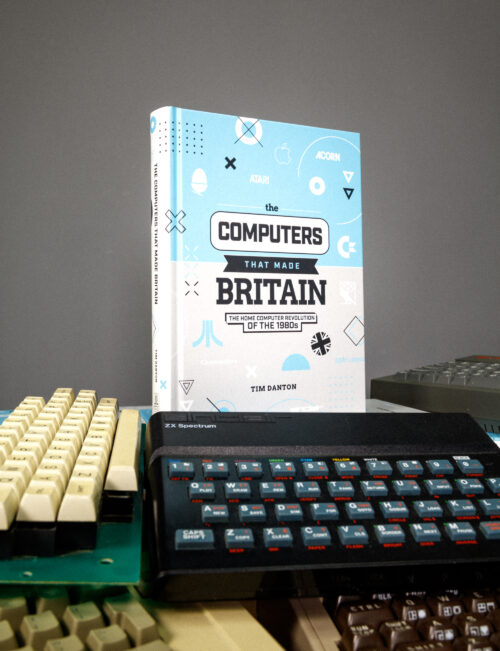 And now, a little word from our author, Tim Danton
It turns out that when you mention you're writing a book about computers from the 1980s, you get two reactions. One is best paraphrased by "Awesome!" followed by a rapid check that their favourite is included. The second is a bemused expression and the question, "Why on Earth are you doing that?"
My initial reason for writing the book was simple: curiosity. I cut my computing teeth on the BBC Micro and the ZX Spectrum, but I knew little about their origins. My only recollection of the people behind the products was a hazy image of Sir Clive Sinclair driving a C5 down a busy road.
What I didn't realise is how fascinating the stories behind these computers would turn out to be. And yes, I know there's an element of "He would say that," but as you'll discover if you buy the book, it's also 100% true.
It turns out that the 1980s was a boiling pot of controversy packed with all the passion, politics and deal-wrangling that Dallas brought to our TV screens. Except that this time, the power struggles were happening in America's Silicon Valley and the UK's Silicon Fen.
This book covers the stories of not just the computers, but the people behind them. Geniuses such as Sophie Wilson and Steve Furber, the co-creators of the ARM processor. Entrepreneurs like Alan Sugar, who applied his "mug's eyeful" approach of building hi-fi units to computers, with astonishing effect. Industry legends such as Bill Gates and Steve Jobs, who it turns out were willing to play a little dirty to succeed.
The end result is a story of not just 19 computers that upgraded Britain to the digital age, but of the people behind them. It also captures a unique time in our history, when anything could happen. And often did.
But I realise I also need to answer the other question: is your favourite computer in there? Here's the full list, so you can find out.
Acorn Archimedes
Acorn Electron
Apple II
Apple Macintosh
Amstrad CPC 464
Amstrad PCW 8256
Atari 520ST
BBC Micro
Commodore 64
Commodore Amiga
Commodore PET 2001
Commodore VIC-20
Dragon 32
IBM Personal Computer (5150)
Research Machines 380Z
Sinclair QL
Sinclair ZX80 and ZX81
Sinclair ZX Spectrum
The post The Computers That Made Britain on sale now appeared first on Raspberry Pi.