Around this time of year, we see so many Christmas-themed projects – Christmas trees controlled by Arduino, Christmas lights that let you play Angry Birds on them, etc.. Don't get us wrong - they are awesome and we look forward to them every single year. But this is a nice change of pace we haven't seen too much of – the Self-lighting (and Tweeting) Menorah for Hanukkah.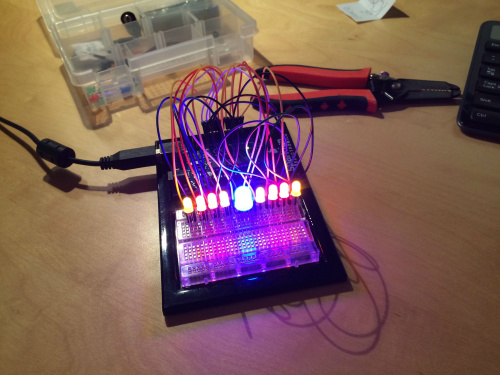 Hey, I recognize that Arduino/Breadboard holder!
This great project comes from SparkFun customer Elahd Bar-Shai and does the following:
Determines Hanukkah dates.
Determines candle lighting times based on local sunset times.
Says candle lighting prayers via Twitter.
Lights candles on a properly configured Arduino.
Extinguishes candles after a few hours.
If you want to follow the project, it tweets to @MitzvahBot. You can also check out Elahd's github repo to see how he built the menorah (and build your own). Awesome project!